Upton Hall School FCJ is a Roman Catholic Grammar School for girls aged 11-18. The school has academy status. It has more than 980 pupils, over 300 of whom are members of the Sixth Form. Academic excellence is highly valued, with each pupil "encouraged to develop her own talents to the best of her ability for her own sake and so that she can help to make the world a better place". Upton has repeatedly been judged by Ofsted to be an outstanding school.
According to the most recently-released figures on examination performance, it is the top-performing school on Merseyside. It also stands as the 21st highest performing school in the country, according to these same figures. Last year, 99% of its students achieved 5 or more GCSEs including English and maths.
In October, Study Skills Zone was invited in to work with Upton Hall's Year 11 students for half a day, to prepare them for their mock GCSEs. Nicola Griffiths, Head of Year 11, had seen the Study Skills Zone website and had noticed the references to "growth mindset". She had already read Carol Dweck's book, "Mindset: the new psychology of success" and wanted Study Skills Zone to convey the benefits of this research to her students.
This programme was so well received by the students and by the staff that the company was invited to return three months later to run a full week of study skills programmes for every year group from Year 7 to Year 13. In addition, four one-hour Parent Power workshops were offered to Year 7-11 parents, which more than 200 parents attended.
It is difficult to do justice to such an extensive set of programmes except by allowing the girls, the parents and the School to speak for themselves.
The following is an extract from the School's website:
"Upton pupils and parents learn the skills for success!
"Recently we held an intensive study skills week in conjunction with Study Skills Zone.  Each year group participated in a personalised session to promote lifelong study techniques, which will help them to fulfil their academic potential.
"These sessions were hugely successful and proved to be a great hit with pupils from Years 7-13.  We will be holding this intensive study week as an annual event, with each year group following a 7-year progressive programme, which will allow the girls to develop effective study habits.
"Throughout the week over 200 parents attended "Parent Power" sessions with the aim of empowering them to support their daughter in their quest for excellence. Each parent walked away from the session with a wealth of knowledge and relevant literature to enable them to support their daughter's study techniques at home."
http://www.uptonhallschool.co.uk/news/?pid=3&nid=8&storyid=235
Here are some of the comments Nicola made during the week:
"The girls told me they liked the videos and the games, and learning about how the brain works and how they learn effectively."
"They enjoyed the pipe cleaner neuron activity and learning about the different ways they can be smart."
"They really enjoyed the memory test and the fun approach to learning."
The Headmistress, Patricia Young, commented as follows:
"We are very fortunate to have such excellent pupils and we constantly look for ways of supporting them and their parents to ensure that they receive the best possible education. Our first experience with Study Skills Zone convinced us that they are partners we wish to collaborate with, to the benefit of our pupils."
Matt Watson, Managing Director of Study Skills Zone, said:
"It was a privilege to work with every student in one of the UK's top performing schools. We were delighted with the positive outcomes and now have the opportunity to build a lasting partnership with the School who are totally committed to giving their students the very best education they can. This was a new initiative for us in response to Nicola's original idea. Having shared our experience with other schools, quite a number are now considering following suit."
Here is a summary of the feedback received from each year group. The figures show the percentage of students replying positively to a series of questions. Below are some of the comments they made.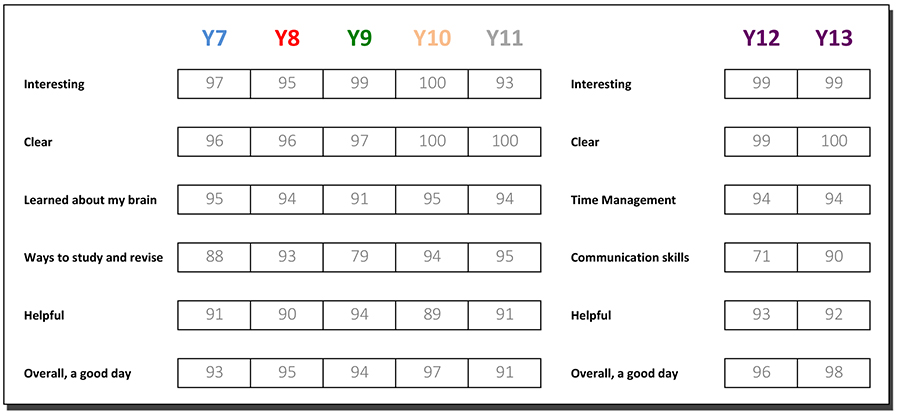 Year 13 students commented as follows:
Learning how to prioritise and organise my time better and the Ebbinghaus forgetting curve.
The exam countdown was useful as it will help me to plan my exam preparation.
That you should revise over short time periods and have breaks, and also revise with others.
About the brain so I know how it likes to learn.
Learning that breaks are important and reading isn't the best way to revise.
Learning study skills in a way that wasn't boring, or almost like an extra subject itself.
The time matrix helped me to think about how not to procrastinate.
The difference between passive and active learning.
The advantage of teaching other people and the importance of study groups.
The time management matrix was very helpful – I also liked how you understood that part time jobs and time for relationships are important.
I never knew that to revise effectively I need to make it active – thank you so much!
The pasta and stones demonstration allowed me to see that I am capable.
Some of the Year 12 students' comments follow:
Learning that there are different types of smart not just writing and numbers
I really had fun doing the 45-minute challenge and the Time Management matrix is going to be something I'll definitely use.
Finding out about the most efficient ways to revise.
How to become less stressed.
Learning about the growth of our brain.
Learning about study skills and the learning pyramid.
I learned about revision in a fun, active way.
I liked hearing about how mistakes are good because we never hear that in school, thank you.
How to prioritise.
The way you approach a task can determine the outcome.
How the brain works.
The time management matrix because I am guilty of procrastination.
Working with a team of people I don't usually work with because I wasn't distracted.
Active ways to revise (lots) and how effective they are.
The eight different ways of learning.
What to spend most time on in exams.
How to improve my memory.
How to keep focused.
That the best way of remembering things is to teach other people.
Revising with other people is more effective than revising alone.
It is okay to make mistakes.
The growth mindset.
Learning how to revise 95% effectively and that just reading your notes is only 10% effective
It was interactive and fun – I learnt more this way.
That you are capable of expanding your brain so in theory everything is achievable.
Here are some of the many comments made by Year 11 students:
Learning about how the brain works to remember information and also about active revision techniques.
The forgetting curve, revision ideas, active learning and the Cornell note taking.
Revision techniques and organising my time.
Keep revision active.
How to manage your time properly from now until the exams.
How my memory can be improved.
Not to procrastinate.
Realising how close the exams are and the number of revision slots that are available to me.
Learning about study groups.
Fixed and growth mindset.
Learning that intelligence is not fixed ensures confidence in people.
These are some of the comments from Year 10 girls:
The test at the beginning was an eye opener and will change how I read questions.
That you can improve your brain.
Learning how I can revise in more interesting ways.
I think today was very interesting, I have learnt a lot more than when I came in today, plus the people got us involved straight away so I was interested immediately.
The tip about post-it notes in the shower and the statistics on learning methods.
The facts and percentages about how to make sure your brain remembers.
Understanding how the brain works when it's learning.
Mnemonics.
I can grow my brain and learn easily.
I've learned how to improve my memory.
Found new and useful ways to revise thank you.
Some of the Year 9 student comments:
The games were helpful because we had to think quickly.
How to grow my brain.
Learning that I need to use more colours and pictures in order to remember.
How to set out revision and decide what's important and what's not.
That I remember pictures more easily than words.
How to use the full capacity of both sides of my brain.
How to organise my To Do list.
Some comments from Year 8 students:
I discovered my learning style and how to improve my memory.
I found out that there is a growth mindset.
Finding out about the brain and how to grow it.
Learning how to revise and how to memorise.
I have an amazing brain!
Learning that there is no such thing as being really intelligent or not; people are intelligent in different ways.
Learning how to take a break during revision.
Loads of different ways I can learn.
The characters on the back of the book.
What type of smart I am – which is, people smart.
Year 7 girls made the following comments:
I've learned how my brain works and it's amazing you can grow it.
Learning I can be better with my brain and I am not below everyone, I am clever in my own way, it doesn't matter to anyone else.
I feel like I have an amazing brain.
What type of clever I am!
What I can do best and what I need to improve.
We all have amazing brains – this makes me feel more confident.
Improving my memory.
That I am smart, but just in different ways.
The remembering helped me to use my imagination and also grow my brain.
How to memorise things easily and that not just English and maths are important.
I learned a lot of new things that really helped me with my learning.
THE PARENT WORKSHOPS
During the week at Upton Hall School, four one-hour Parent Power workshops were held. The first two were for parents of Year 7 and 8 students and the last two for Year 9, 10 and 11 parents. Numbers attending were in excess of 200, with about 160 returning feedback forms. (Many attended as couples).
At the end of the 60-minute workshop, the parents were asked to rate the session on a scale of 1 (high) to 5 (low) for interest and relevance. These are the results:
| | | | |
| --- | --- | --- | --- |
| TOTALS | Strongly Agree and Agree | Neither | Disagree |
| Interesting | 90% | 8% | 2% |
| Relevant | 78% | 19% | 3% |
Parents were then invited to make their own comments about the workshop. These were some of the responses:
Excellent ideas – very useful
Found it useful and will be able to pass on to others. All schools should have these sessions – it will help children everywhere
Good tips to support children at home
The session was not long enough. I would encourage all students and parents to attend similar sessions and thank the school for facilitating this event. Repeat event annually
Very useful – would come again
Picked up some good tips – good advice to take away and discuss with my daughter – please continue to come. Thank you
Relevant and good tips for revision
I am glad I came, it was like my brain was dormant but I now have learned a lot. Thank you very much
Appreciate school arranging this – well presented – one hour 30 minutes would be better
Helped me understand learning strategies
Very good – daughter in year 11, so would have been useful earlier in school
Very useful as filled in gaps in my knowledge and confirmed importance of some tips but not been really sure of. Thanks
Very helpful – better than expected – thought it would be about revision timetables etc thank you – very positive, message is very clear about taking the fear out of exams – believe in yourself
Gave good ideas to help with revision. Ideas I will suggest which may help
Very helpful, thank you very much
Thank you – session very useful and illuminating
Pre-attendance information setting the scene would have helped with understanding. Longer session would have been beneficial. Thank you for the insights
Very informative and gave me an insight into some of the techniques my daughter can use and also how she can better prepare herself for exams
Found it useful. A lot of your comments I do apply in my primary school class through AfL. Good to find new strategies to employ at senior level
Found it very interesting – would like my other daughter to have the same opportunity to learn the study skills. I will definitely use the knowledge I have learnt
Very informative. Would like it to happen again – longer session
Informative and I will take away ideas and tips on how to help my daughter
Thought provoking
The session was excellent. I was very unsure whether it would be of use but I was pleasantly surprised. I also came away energised as I have two daughters doing GCSE and A levels and can find it draining trying to support both through their ups and downs
Useful to remind people that there is nothing that can't be achieved with the right techniques and attitude to work
Very useful. Reinforced what I was told 25 years ago. Still holds good today. It's great that you've told my daughter the same thing. She won't take it from me!
I am in my last year of sixth form and I found it useful to find out about revision techniques that I haven't heard of before
Very useful – should happen again
Overall it was very interesting – would have appreciated more detail on the techniques that are effective
Moved at a good pace – maintained interest – don't agree with all, but food for thought – liked the quiz
Useful and fun
Mrs Patricia Young, Headmistress
Upton Hall School, FCJ  Upton Wirral CH49 6LJ
T: 0151 677 7696 E: uhs@uptonhall.wirral.sch.uk  W:www.uptonhallschool.co.uk